Solution
Teach Up takes creation and online learning… to the next level!
Teach Up's authoring tool is one of the most powerful in the world. With its Artificial Intelligence for Learning, you'll be able to create and distribute training courses, assessments and blended courses in record time.
Teach Up brings learners and e-learning together, providing them with immersive, personalised experiences. Most importantly, when you complete a course produced with Teach Up, you'll be working towards 100% mastery, at your own pace.
Create
1. Create your lesson content… simply
You can create or import (almost) anything in Teach Up: text, images, PPT and Word documents and PDFs, YouTube or Vimeo links, Typeform and Google Docs links, downloadable media, MP3s, forms, external websites, processes, surveys, collaborative walls, etc.
2. Highlight the knowledge to be shared
Once your content has been added, use our "intelligent" highlighter to emphasise the key knowledge to be shared: Teach Up handles the rest! Our educational algorithms will automatically create a range of learning games for you: velcro, fill in the blanks, clickable areas, place the label… and many others.
3. Ask questions to boost adaptive learning
Teach Up asks you questions regarding your lessons in order to create a range of learning games, and it can make real-time selections from a series of interactive screens, establishing which are the most suitable to make each individual participant's learning a success, at their own pace and in their own way. This method of creation is simple and accessible to all, making each learning experience unique.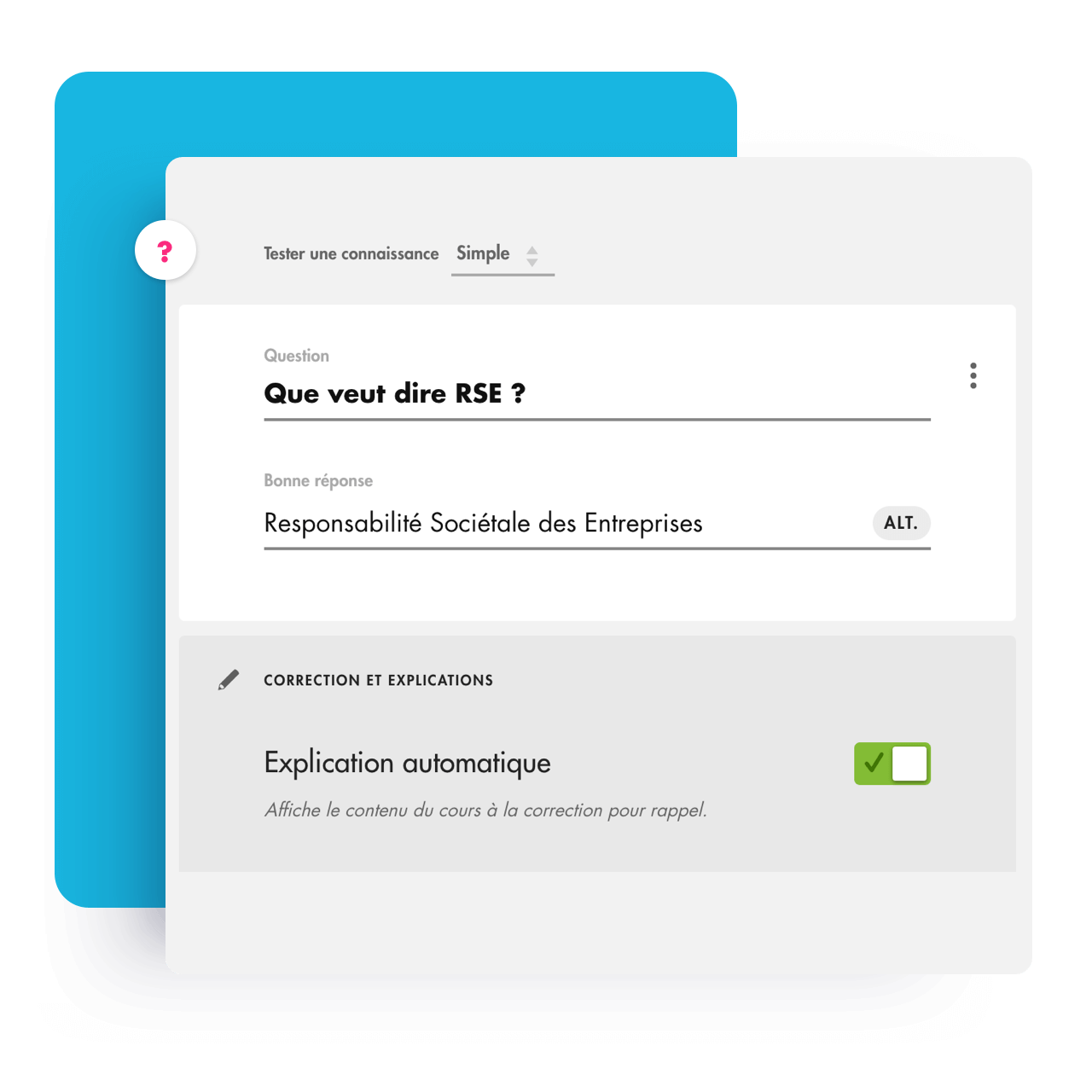 4. Test and validate your modules in a single click
Once your training has been tested, send a collaborative validation link to your reviewers (colleagues, business experts, customers, etc.) to enable them to approve and annotate your module's content. You can track their comments and finalise your creative work in real time.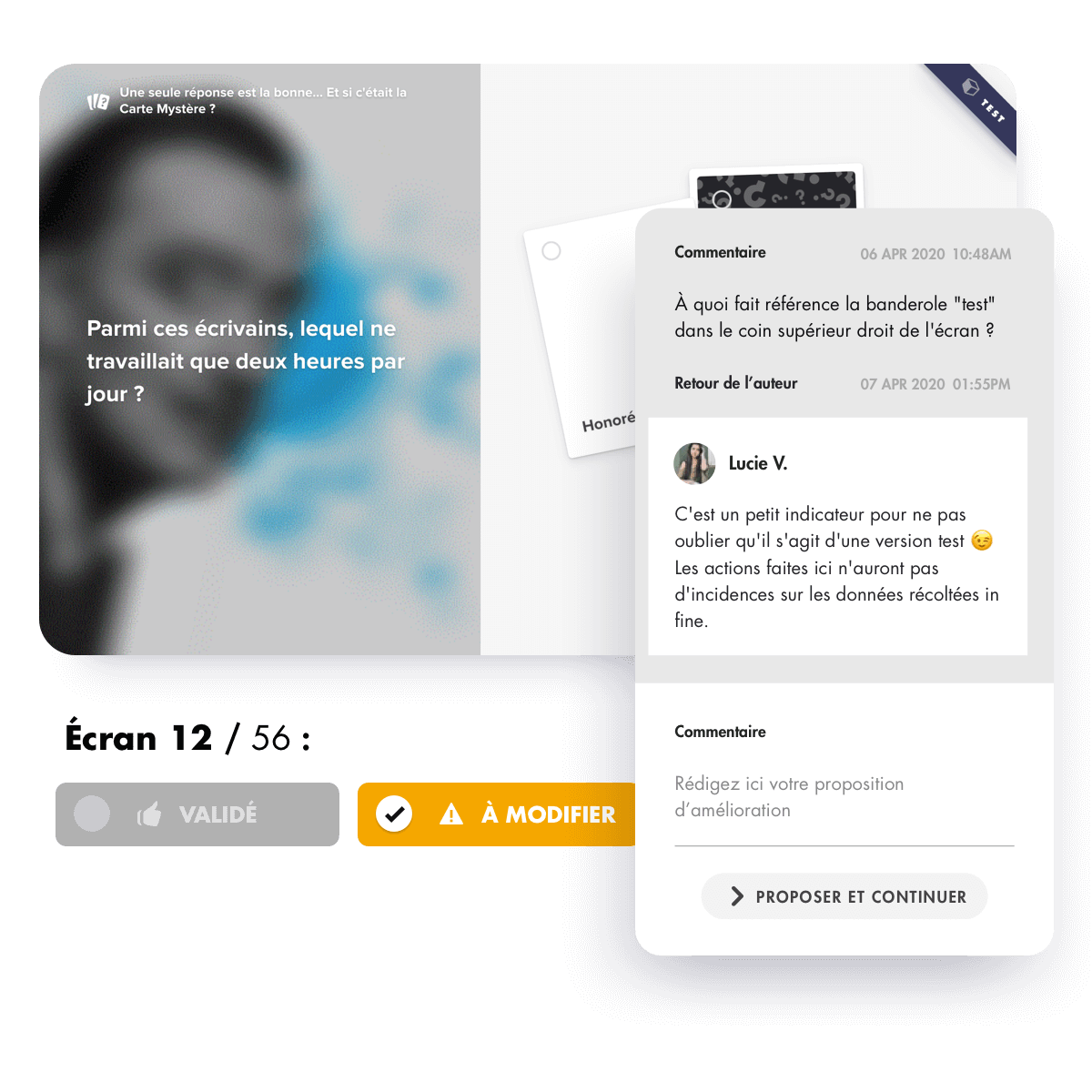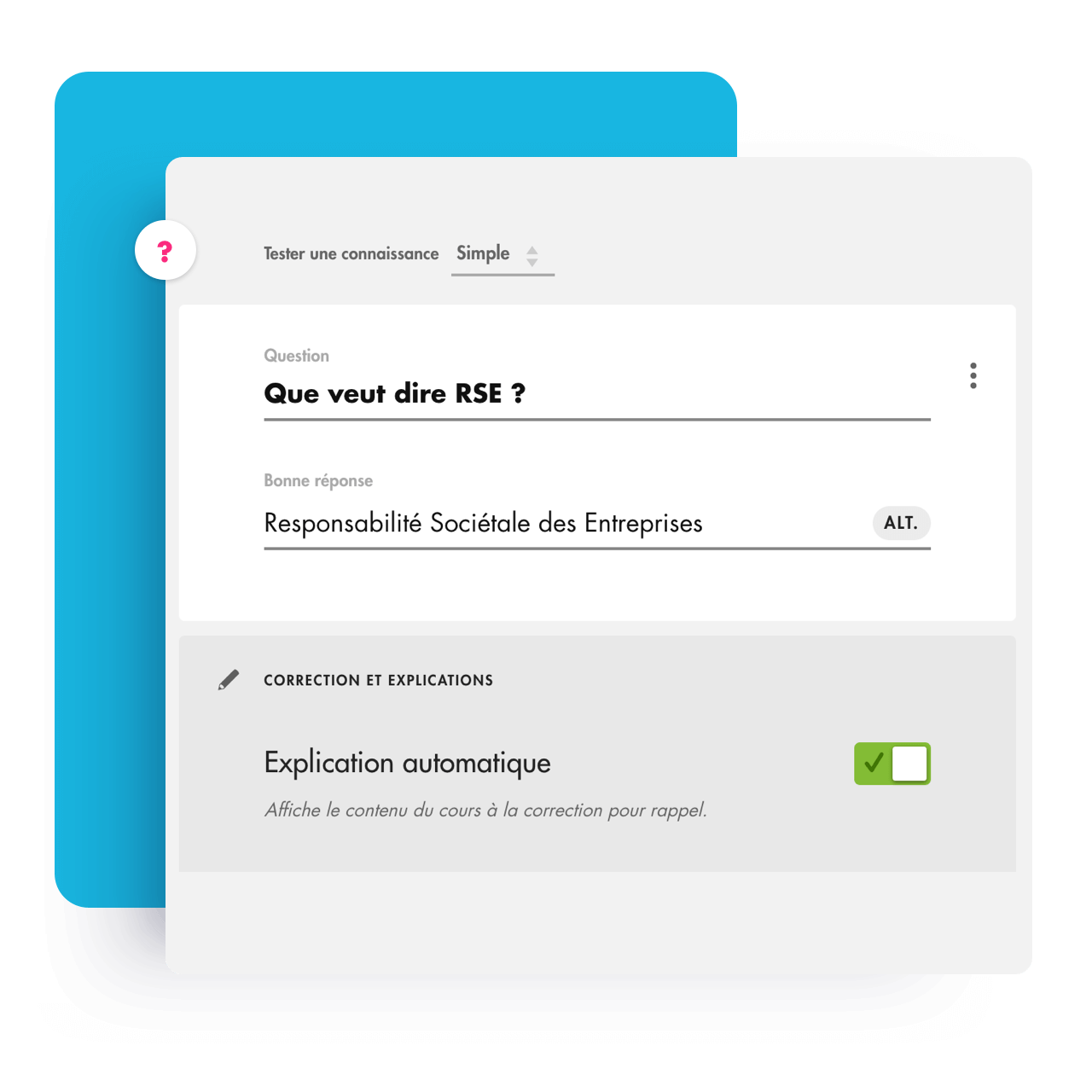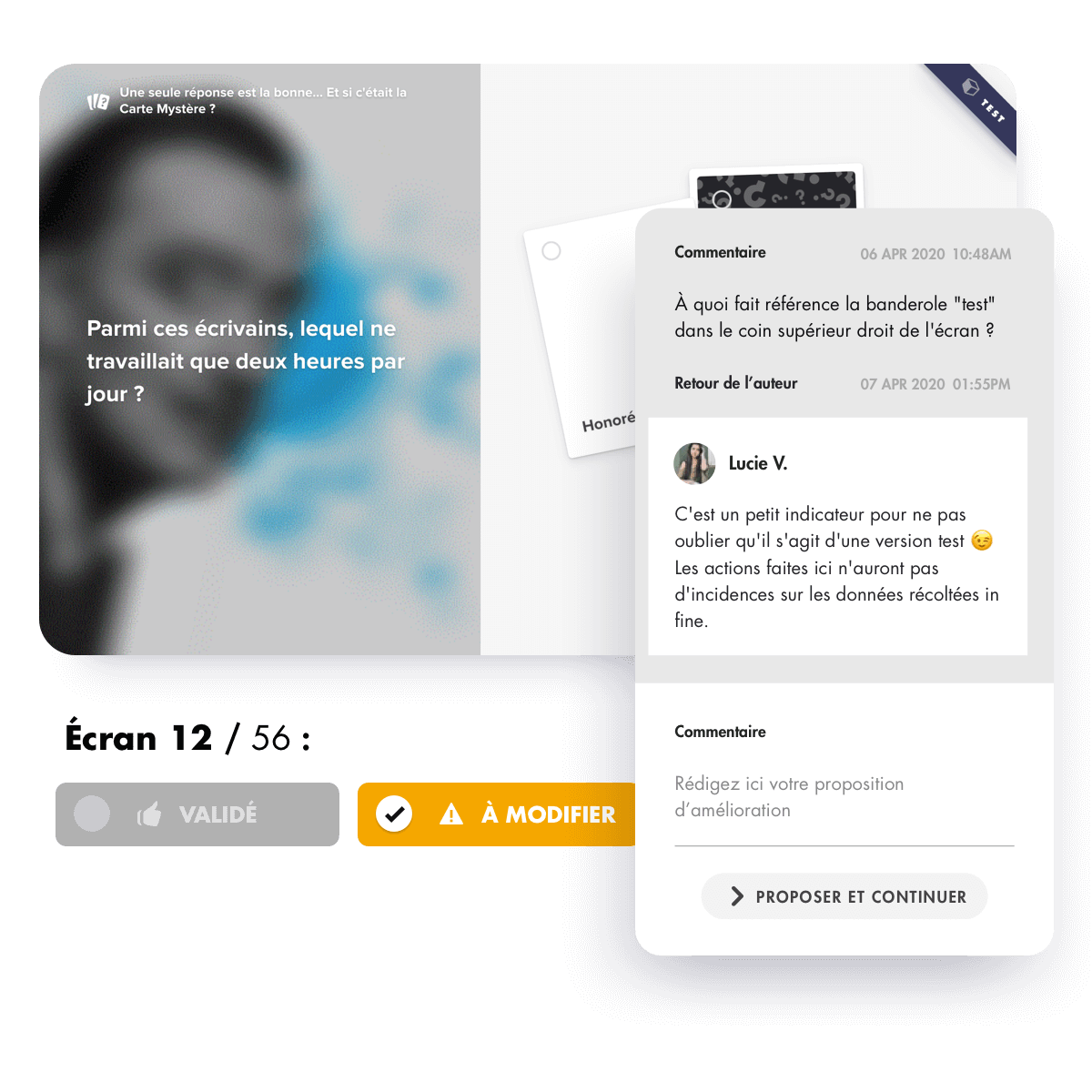 Measure
View the impact in real time
Whether in your LMS or in Teach Up (with the Teach Up Platform subscription), you can monitor each learner's progress, view their current learning level and collect their submissions. In addition, you will also have access to data on key knowledge in your modules.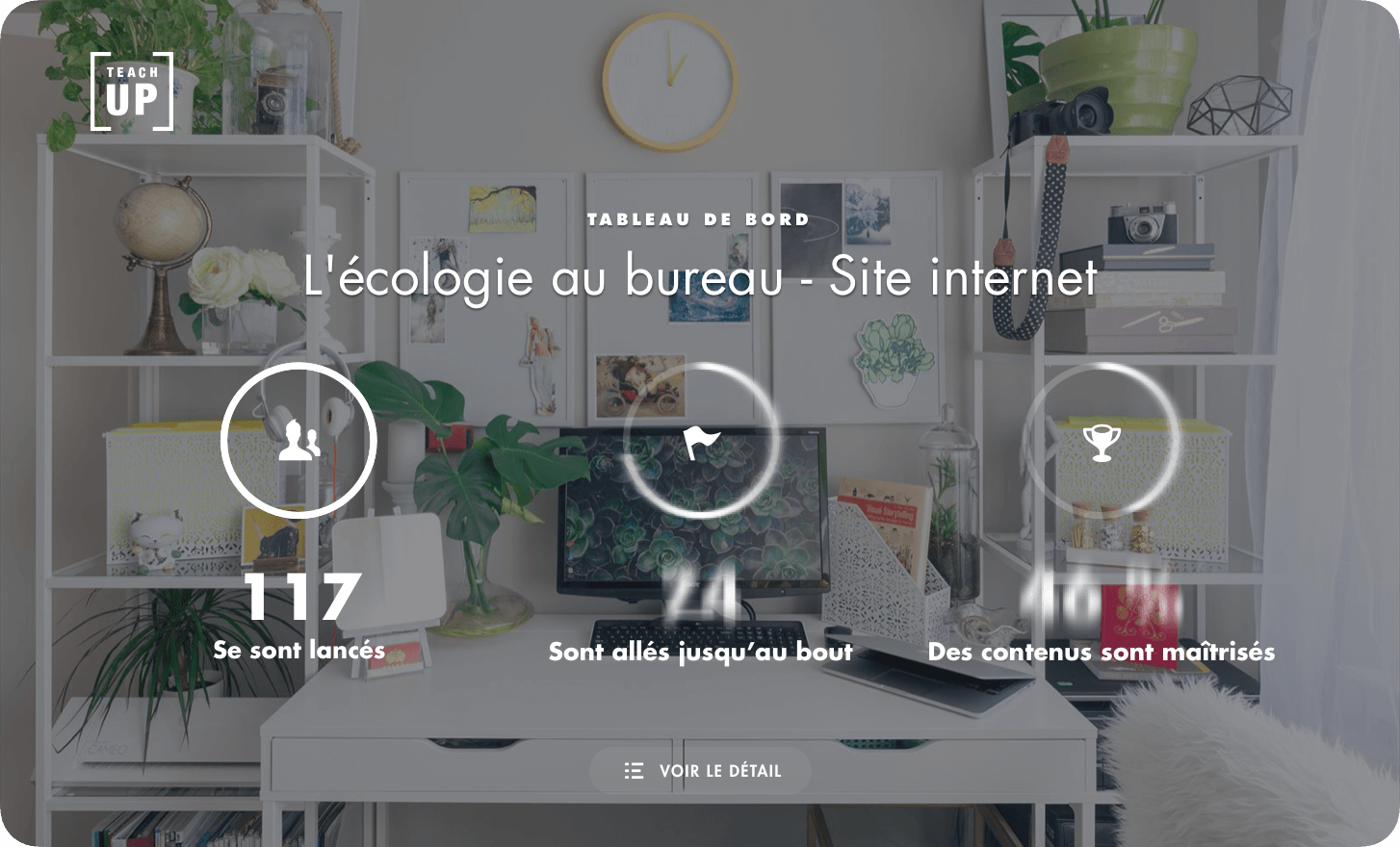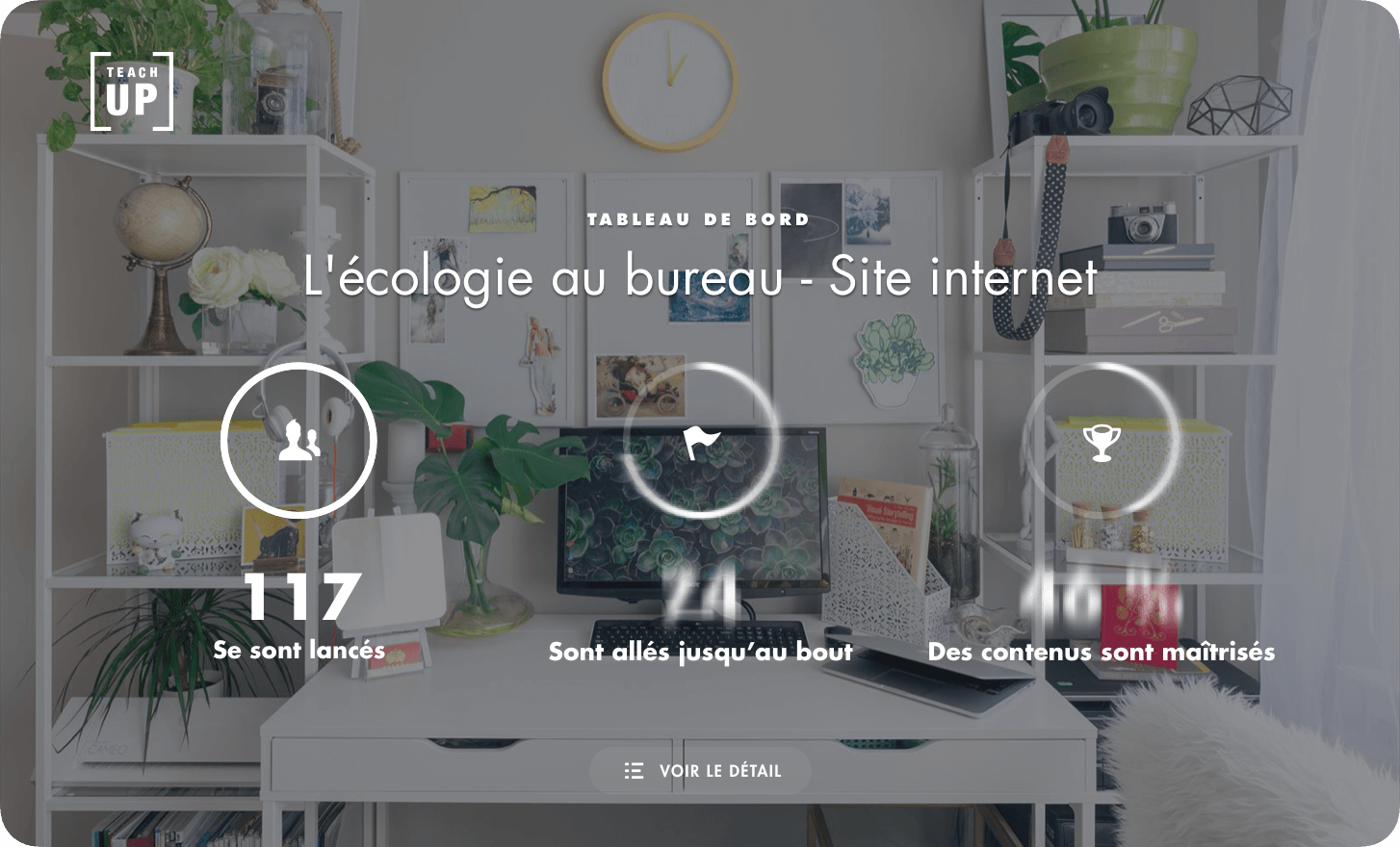 And much more…
Easily create assessments, AFESTs, SPOCs and MOOCs
If you'd like to find out more about our powerful SPOC or MOOC editor, or our assessments, or the best way to produce digital AFESTs (Actions for Workplace Learning) with Teach Up – or if you have any other questions – please get in touch!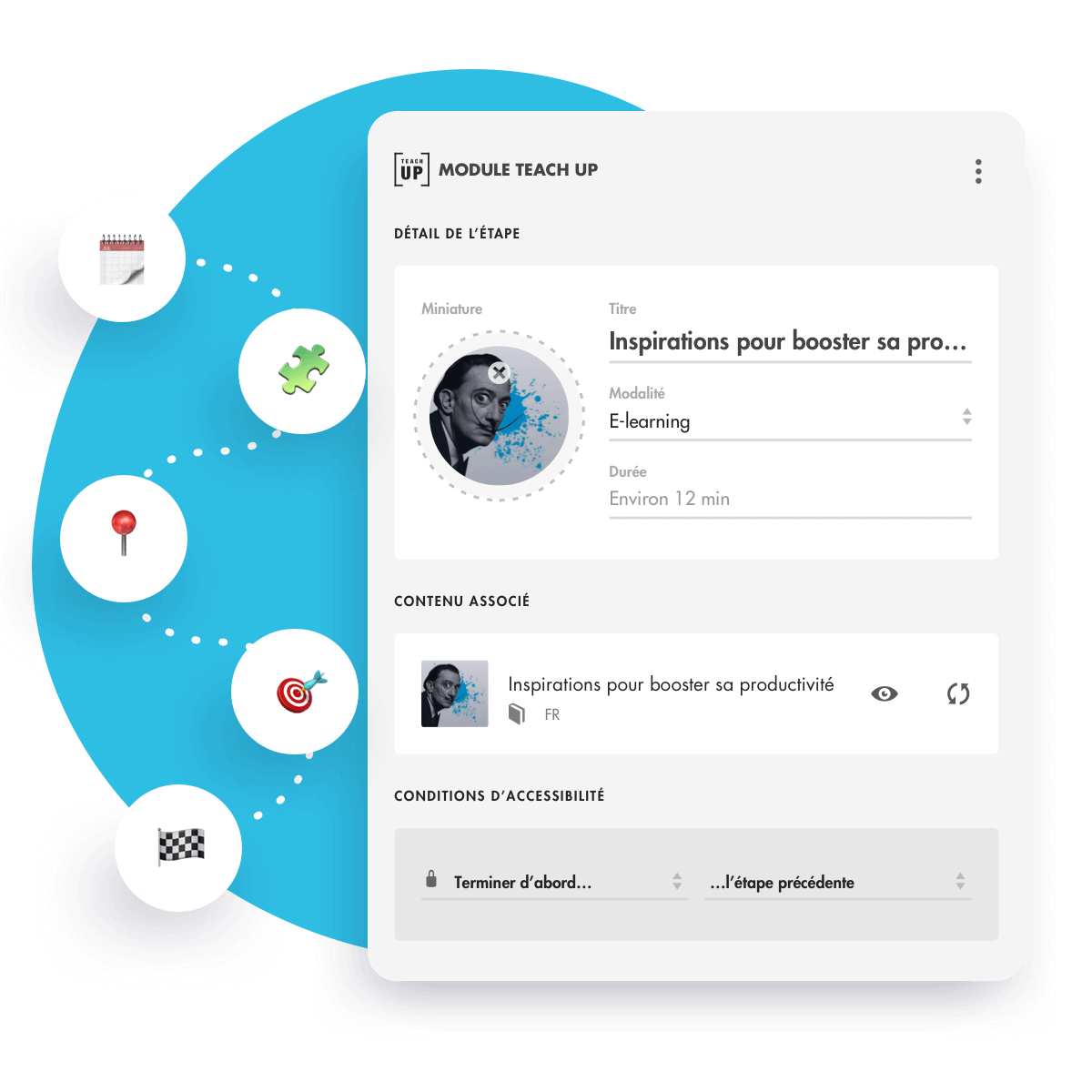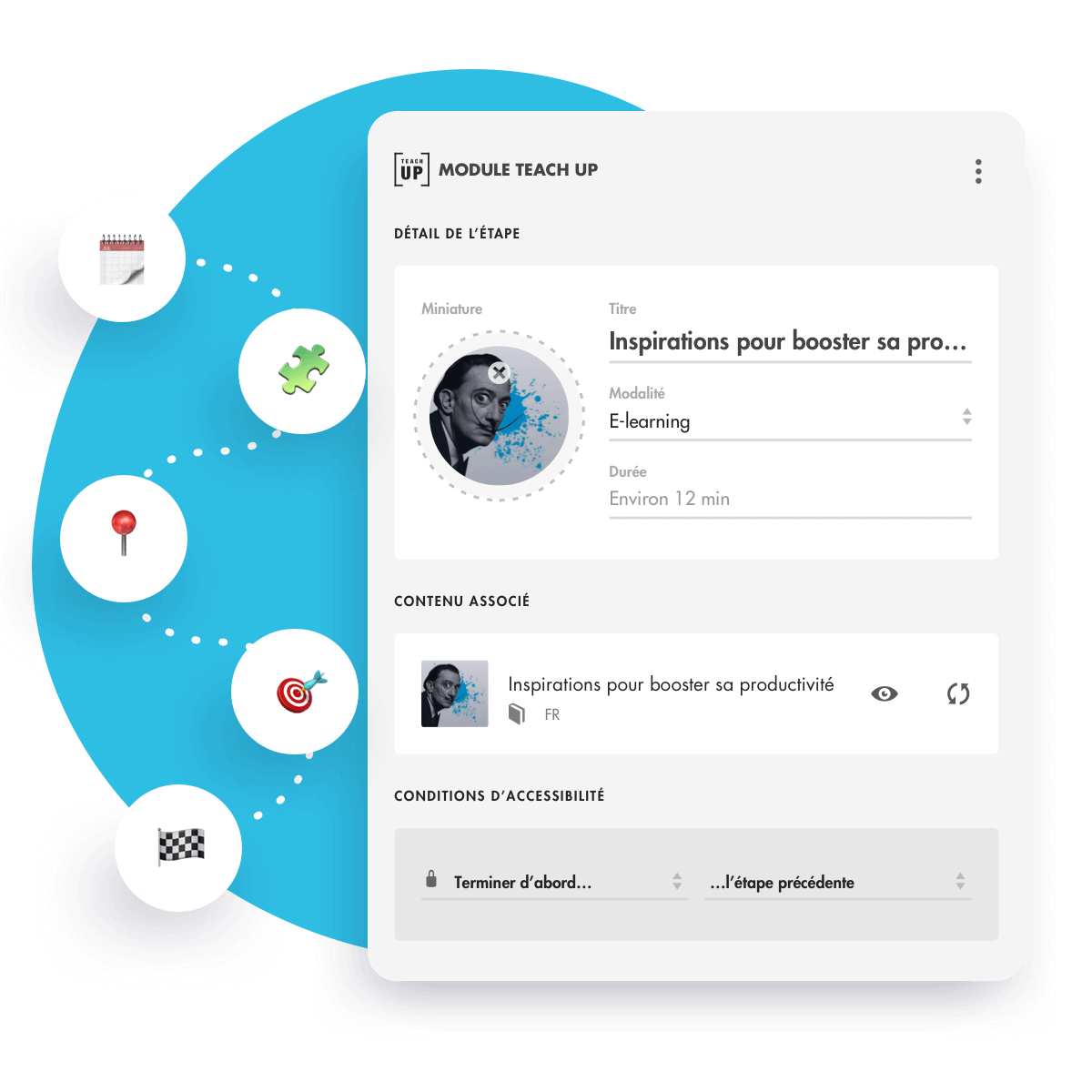 Adaptive Learning
Adapted to each learner
In Teach Up, every training course is unique! Its learning AI ensures that every learner's training course adapts to their needs and level of expertise in real time. Teach Up's adaptive learning engine ensures a very high level of mastery over the key knowledge to be shared, regardless of individual level.


Mobile learning
A Premium experience
With Smart One Page© – our new prize-winning solution at the ILDI Learning Awards in late 2019 – your digital training is automatically transformed into Premium mobile learning experiences. The training is created in real time, offering all learners courses and exercises that are fluid, elegant and perfectly suited for use on smartphones (even in SCORM).
Gamification
Creating engagement
Because people learn better when they're having fun, we've built an ever-increasing number of learning games into Teach Up: engagement, desire to learn and added value are all key ingredients in successful learning.


Assessment
Quality and compliance
Teach Up allows you to easily assess knowledge via assessment modules. Random selection, selected response time, minimum pass mark, detailed advice… a wide range of options are available to enable learners to confirm their knowledge and skills development.


Journey
Immersive SPOCs and MOOCs
Our SPOCs and MOOCs enable your learners to complete their entire training courses via all possible means: rapid learning, assessment, digital Actions for Workplace Training, as well as PDFs, videos, invitations to events, classroom training and virtual classes, and more. All learners also have their own secure personal space that they can log into at any time to replay training and pick up where they left off.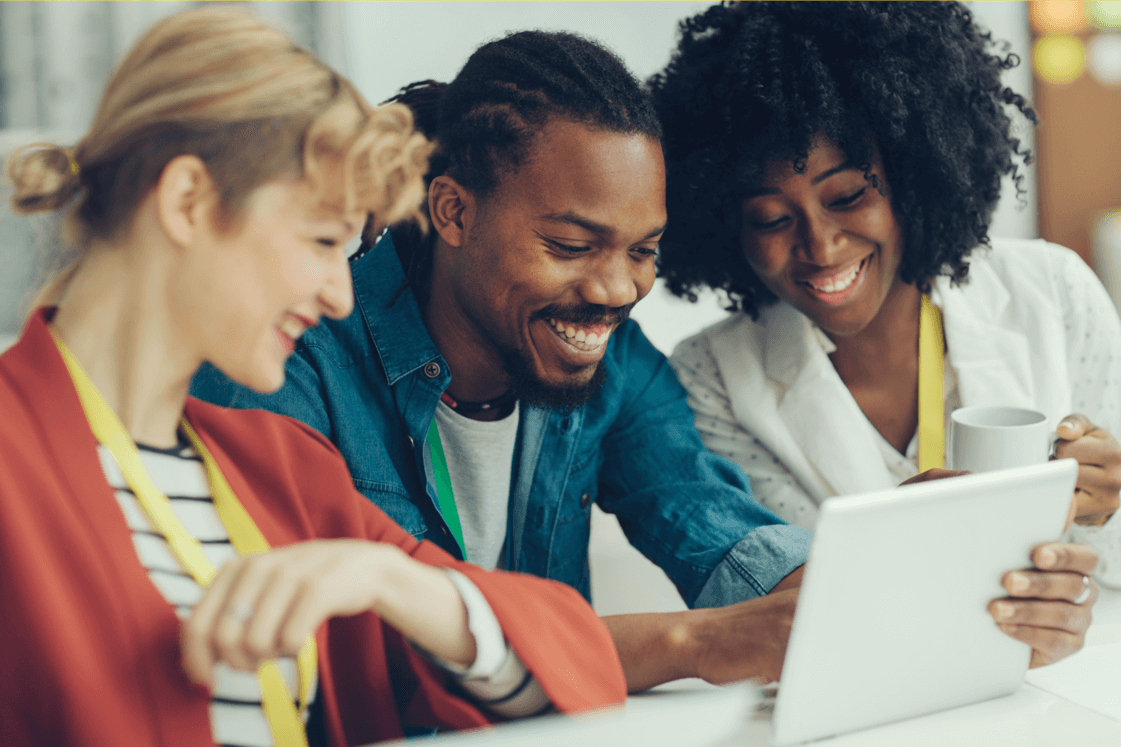 Want to give it a try?
Join our existing customers, who are reinventing training by creating personalised experiences on Teach Up.